April 2019
he Kakuma refugee camp has been hit by a shortage of water since January, forcing camp residents to wake in the middle of the night to queue with their jerricansat community water taps for morning collection. Although water shortages have become the norm during dry seasons, the current shortage is worse than usual.
Due to stress caused by the shortage, chaos and fighting at the taps have become a daily routine for many refugees. Furthermore, women and children must travel longer distances than usual to fetch water from other communities' taps, which can be a significant risk for their safety.
Part of the problem is over-crowding. When the camp was established in the 1990s, it was supposed to holda maximum of 70,000 residents. But by 2018, the population is more than double that, with nearly 170,000 residents.
In places like Kakuma One with high population density, water shortages can spark conflict between Ethiopian and Somali communities as stress and frustration builds at shared community taps.
According to UNHCR policy, the minimum standard for water is 20 liters per person per day. However, given the dust and heat in Turkana, refugees often need additional water for drinking, for cleaning dishes and clothes, for taking baths, and for cooking meals.
Currently water is rationed two times per day: first in the morning between 7:00AM and 9:0AM and then during lunch hour, between 12:00AM and 2:00 PM. Halima, a Somali woman in Kakuma, explains, "If you miss the morning collectiontime, it is very difficultto get the lunch hour distributions. Even now, we are unable to buy it from the women who sell water."
Kasu, Ethiopian Block 10 leader, complains about the burden of providing water to people who come to the tap from other communities. "We are receiving very small quantities of water compared to other times. And yet we are expected to allocate for people who come to our taps from other blocks in the camp?"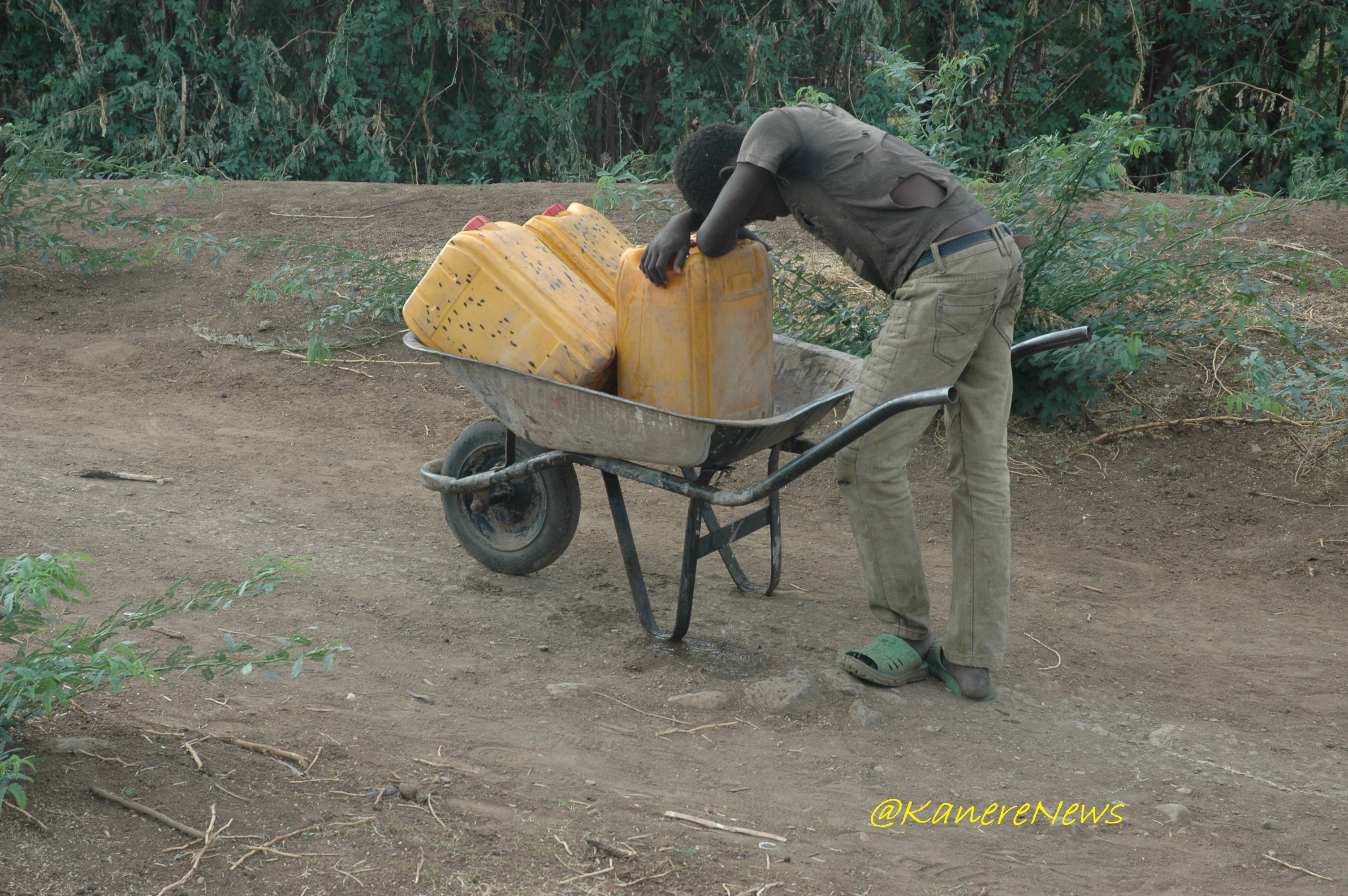 Norwegian Refugee Council (NRC) has handled water distributions since 2015, when they took over responsibility for water from Lutheran World Federations (LWF). According to the NRC, the cost of the fuel needed to pump water is high, but using solar powered pumps – which operate for six to seven hours each day – saves about 40 per cent of the costs of running diesel generators.
Nonetheless, refugees have continued to experience water shortages. Some are forced to buy water from informal traders, who sell 20 liters at a price of 30 to 50 Kenyan shilling.
The rainfall in Turkana is roughly minimal but can be highly erratic and unpredictable, with annual rainfall varying widely from 120mm to500 mm per year. Ms. Malim Aden, a 52 year–old mother of four, says that the current shortage started in January 2019, when the dry season set in.
Officials from both UNHCR and NRC are yet to respond on how they will address the current water crisis.